Amazon has just announced there new generation of the Amazon Echo devices. All these devices are available for pre-order on Amazon. These include the new Echo Dot, Echo Plus, Echo Show and Echo Auto. So, let us just break down the things and make them easy for you.
Amazon Echo Dot
Looking at the new Echo 2 there is something very noticable about this new Alexa powered device. So, gone is the old plasticky design, and here comes the new Echo Dot with a fabric design. The fabric design reminds us of the Google Pixel cases and their Google Home systems. This new fabric design will come in three new colors colors. Amazon claims this new speaker to be louder and richer. At $49(INR 4,499), we highly recommend to have a look at this new device from Amazon.
Amazon Echo Plus

The new Echo Plus also has the new updates just like the regular Echo Dot. You will get the same fabric designs and a new 3-inch speaker with a stronger bass and clearer mids and highs, with a new fabric design and an upgraded 3-inch speaker with stronger bass and clearer mids and highs. For $149(INR 14,999), you can buy one from here.
Amazon Echo Show
Now, above all these devices the new Echo Show is a significant upgrade over the previous model. A new design and a massive 10-inch HD display,makes it the largest Echo deviece from Amazon. A new sound system with two 2-inch drivers, a passive radiator and Dolby audio processing ames this device an overall winner. We just loved the way Amazon has put these things together in such package.

Both Echo Plus, and the Echo Show includes a built-in Zigbee hub. This is a easy way of connectiong to smarthome devices using the famous Zigbee protocol. The Echo show has a 5MP front facing camera to take Skype audio and video calls in HD. The Echo show will come pre-loaded with Amazon Silk broswer to browse on this 10-inch display. It's good that how Amazon has maintained the price at the same $229.99 as the previous model. Right now, this model shows no availability in India.
Amazon Echo Auto
Lastly, the new Echo Auto, is for all those techy car lovers. This is surely an Echo device for your car. This is the cheapest Echo device at $24.99. This will connect to your car speaker system and allow you to access Alexa in your car. You can onnect this to your cars 12V power outlet or a USB port. It can also connect to the Internet via Bluetooth on your phone.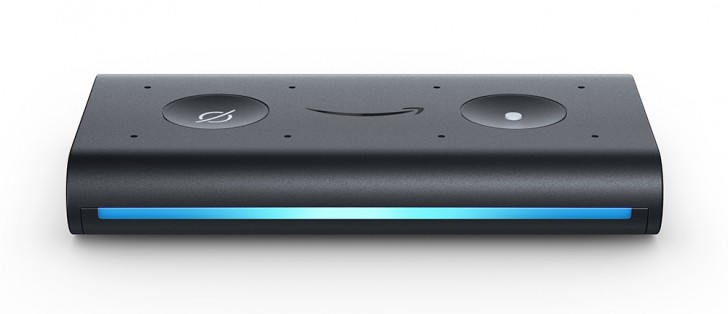 Echo Auto can pick up anyone's voice in the car and can also hear your over music or engine noise. Using the Alexa app on your phone, it can play music or give you turn by turn navigation. You can also ask it pretty much anything you'd ask your Echo at home. With this new Echo Auto you can take phone calls, play music or navigate through Echo voice. All these tasks will be well performed by Alexa.
The Echo Dot, Echo Plus and Echo are now available for pre-order on Amazon and it will go on sale October 11. Echo Auto is up for pre-order by request only for handful of people as of now.